The possibilities are endless!
Check out our 35+ sample itineraries and mix days from different ones to create a truly customized trip.
Toronto | Midland | Niagara Falls | Ottawa | Montreal | Quebec City
>> Enjoy the natural beauty of Canada while finding religious gems hidden in magnificent cities and quaint countryside. Canada is home to many saints, and this pilgrimage allows you to explore the lives of the saints by following in their footsteps. Visit the prominent cities of today with a Catholic view that will show how our Church shaped history. Reserve your spot today!
Inclusions
Round trip air transportation from major airport near your parish
Superior tourist class hotel accommodations double occupancy with bath or shower (single supplement extra)
Breakfast daily, most group dinners, with wine and beer, as indicated in Itinerary (B, D)
Special events, entertainment, and comprehensive sightseeing programs as indicated in itinerary
Transportation by private deluxe motor coach Tour escort and local guides
Hotel Service Charges and Taxes
US airport taxes, fuel surcharges included** **subject to change in the rare occasion that government/airline fees and fuel costs increase drastically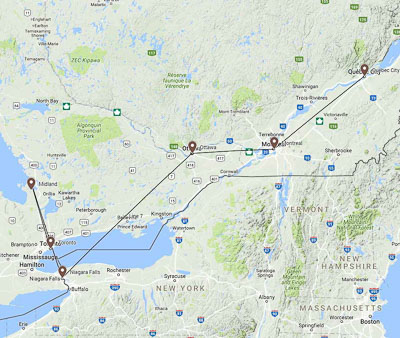 "This was our second trip with you this year, I'm so glad we joined!"

Day 1 | USA – Toronto
Depart the USA for Toronto, Canada. Meals are served aboard your flight. Upon arrival we meet our Escort and transfer to our hotel in Toronto. Enjoy a welcome dinner this evening. (B,D)
Day 2 | Toronto
After breakfast we start our exploration of this beautiful territory. Start with a panoramic tour of the city which is located by the lovely Lake Ontario. After this scenic drive, jump into the heart of the city. Here we will visit the most interesting districts of the city including the impressive modern architecture center and the old town. We will also make a visit to the CN Tower where we will admire the sheer size of the city to the surrounding areas of Niagara Falls. This afternoon we will celebrate Holy Mass at the Neo-Gothic St. Michael's Cathedral Basilica. Tonight enjoy dinner at a local restaurant. (B, D)
Day 3 | Toronto – Midland – Toronto
This morning we board our comfortable coach for a day trip to the Shrine of Martyrs in Midland, Ontario. This Shrine was visited by Pope Saint John Paul II in 1984. It has become a large pilgrimage site serving as a place to pray to the eight Jesuit Saints who gave their lives for the gospel in Canada. After celebrating Holy Mass and having individual prayer time we will make our way back to Toronto driving by the pristine shores of Lakes Huron and Simcoe. Once in Toronto, the rest of the evening is yours to enjoy this scenic city with dinner on your own. (B)
Day 4 | Toronto – Niagara Falls – Toronto
Today we leave the hustle and bustle of the city to visit a magnificent work of God's creation, the stunning Niagara Falls. Niagara Falls formed by the waters of Lake Erie pouring over into Lake Ontario by a rocky threshold. Not only will we watch the Falls from a distant viewpoint but we will be partaking in a Journey Behind the Falls, which allows us to explore this glorious site even further. After our exploration, we return to Toronto where you are free to enjoy a dinner on your own. (B)
Day 5 | Toronto – Ottawa
We are on our way to Ottawa! Enjoy the beautiful countryside as we make our way to the capital of Canada. Upon arrival in Ottawa you will have free time to explore the city at your leisure and get the first taste of all this capital has to offer. Meet back at the hotel for a group dinner. (B, D)
Day 6 | Ottawa
Starting the morning with a delicious breakfast, we are now ready to start our full day tour of Ottawa. There are many districts in this enchanting city and we will take our time visiting them. We will wander through the new districts, the charming old town and the impressive government and parliament buildings. After visiting local churches, we will celebrate Holy Mass at the Notre-Dame Cathedral Basilica. Complete with a Neo-classical design, this Cathedral is the oldest and largest church in Ottawa and services are celebrated in both English and French. Tonight, enjoy dinner on your own in the city. (B)
Day 7 | Ottawa – Montreal
After breakfast we leave the capital city for Montreal, a city of French culture. Montreal is home to some of Canada's richest monuments, churches, museums, art galleries, and architecture. All are placed against the back drop of the St. Lawrence River. Upon arrival we will drop off our luggage and begin our tour of this magical city. The tour starts in Vieux Montreal (Old Montreal) where we see a charming cluster of buildings dating back to the 17th century. Among the dozens of churches we will see, we visit Mary, Queen of our World Cathedral which dates back to the 19th century. We also have the opportunity to visit the Church of Notre-Dame-de-Bonsecours and the Seminary of Saint Sulpice. This evening enjoy a group dinner with a traditional Quebecois meal. (B, D)
Day 8 | Montreal – Quebec City
This morning we will wander through the botanical gardens, which are truly a sight to see. After this breathtaking walk we board our coach to transfer to Quebec City. Upon arrival, we jump right into our city tour. Quebec City is home to a unique French Culture and we will see this manifested in the architecture, food, and the people. Some stops on our tour include Chateau Frontenac, Notre-Dame de Quebec Basilica Cathedral, the tomb of St. Francis Laval, the Ursuline Monastery, and the Basilica of St. Anne de Beaupre. This evening we will enjoy a farewell dinner with the group where we can reminisce about our wonderful pilgrimage. (B, D)
Day 9 | Quebec City – USA
After breakfast, transfer to the airport for our flight back to the USA. (B)