The possibilities are endless!
Check out our 35+ sample itineraries and mix days from different ones to create a truly customized trip.
Eastern European Immersion
Prague | Budapest | Zagreb | Plitvice Lakes | Split | Medjugorje | Dubrovnik
>> With a complex and rich history, the region of Eastern Europe makes for an unforgettable experience. This pilgrimage visits three capital cities as well as cities in the Dalmatia region and Medjugorje. Although the Church has not yet affirmed the 'apparitions', thousands of Catholics come here every year. While visiting Cathedrals and metropolitan hubs there will also be time for peaceful relaxation in some of the world's most beautiful parks. Enjoy the stories of the faithful who have come from this region of the world. This will be a pilgrimage that will deepen your faith in unimaginable ways.
Inclusions
Round trip air transportation from major airport near your parish
Superior tourist class hotel accommodations double occupancy with bath or shower (single supplement extra)
Breakfast daily, most group dinners, with wine and beer, as indicated in Itinerary (B, D)
Special events, entertainment, and comprehensive sightseeing programs as indicated in itinerary
Transportation by private deluxe motor coach Tour escort and local guides
Hotel Service Charges and Taxes
US airport taxes, fuel surcharges included** **subject to change in the rare occasion that government/airline fees and fuel costs increase drastically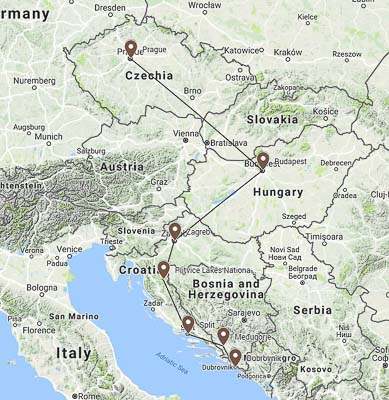 "Split was so neat! I definately never thought of going there until Father mentioned it"

Day 1 | USA – Prague, Czech Republic
Board your flight to Prague. Dinner and breakfast are served during your transatlantic flight.
Day 2 | Prague
Upon arrival in Prague, you will be met by your guide and transferred to your hotel. Depending on the time of the flight's arrival we might start our walking tour of this beautiful capital city of the Czech Republic. Return to the hotel in the evening for our first meal together. (D)
Day 3 | Prague
After breakfast we begin to explore Prague. We will have Holy Mass, pray and learn of the Statue of the Infant Jesus of Prague. We will visit the Church of Our Lady Victorious, the Old Town, Lesser Town, St. Nichols Church, Strahov Monastery, Wenceslas Square and the St. Vitus Cathedral, St. George Basilica, and Loreto Church. After the tour, you are welcome to dine at your leisure and enjoy this breathtaking city in the evening. (B)
Day 4 | Prague – Budapest
We will leave Prague for Budapest in the morning. Enjoy the countryside while our guide speaks of the complex history of the region and our spiritual director speaks of the faithful that have come from here. Upon arrival enjoy a half day sightseeing tour of Budapest. See the many graceful bridges that cross the Danube connecting the former cities of Buda and Pest. Our tour includes the main attractions: the Royal Palace, the Parliament, the Castle Hill, Coronation Church, Heroes Square and Gellert Hill. Dine with the group this evening. (B, D)
Day 5 | Budapest
In the morning we will board a river cruise which takes us along the Danube River. You will see the city from a different view while enjoying a relaxing afternoon. This evening enjoy free time with a local goulash while you listen to some traditional gypsy music. (B, D)
Day 6 | Budapest – Zagreb
We depart Budapest for another capital city. Along the way, take in the alluring sites of the Hungarian/Croatian country side. Upon arrival in Zagreb, the capital of Croatia, we will check into our hotel and the rest of the afternoon is free to explore this beautiful city. We will meet this evening to enjoy a traditional Croatian meal. (B, D)
Day 7 | Zagreb
Today we will enjoy all that this stunning city has to offer. After a delicious breakfast at our hotel, we start our walking tour of Zagreb. We will visit St. Mark's Square which provides historical context for this modern capital. We will also visit the Zagreb Cathedral which highlights the faithful of the nation. Our guide will take us to the Croatian Academy of Sciences and Arts to see some of the most spectular gardens in the world. This evening enjoy dinner on your own in the city. (B)
Day 8 | Zagreb – Plitvice Lakes
We are leaving Zagreb for tranquility in the Plitvice Lakes National Park. The park is located in the mountains of central Croatia at the border of Bosnia and Herzegovina. This protected area provides the perfect setting for us to sit and enjoy what God has created. We will enjoy a relaxing afternoon; some may wish to go swimming before returning to our hotel for a traditional Croatian meal. (B, D)
Day 9 | Plitvice Lakes
Today you are free to explore this park. Take time to sit in God's beautiful creation. Enjoy a nice lunch with a view or say a rosary among the wildlife. Enjoy dinner on your own this evening. (B)
Day 10 | Plitvice Lakes – Split
This morning we leave the breath taking sites of Plitvice Lakes for the largest city of Dalmatia, Split. Split was originally a Greek colony but like many areas in the region, Split was at war. After many years of war and new rulers ranging from the Republic of Venice to the Habsburg Monarchy to Italy during World War II, Split gained independence from Federal of Yugoslavia in 1991. Upon arrival in Split, we will be guided around many beautiful and curtural sites such as the Croatian National Theater and the Cathedral of Saint Dominus. (B, D)
Day 11 | Split – Medugorje – Split
After an early breakfast we depart for Medugorje. After a short bus trip, we will arrive for Holy Mass at St. James' Chur ch. Following Mass, we will spend much time in silent prayer at this very peaceful place where it is said the Blessed Virgin Mary appeared for the first time to six childr en on June 24, 1981. We may choose various activities while in Medjugorje. One may climb to the Hill of the Apparitions or Mount Kirzevac (Cross Mountain) or join villagers in praying the rosary. In the late afternoon we will take our bus back to Split to spend our last evening in this gothic city. (B, D)
Day 12 | Split – Dubrovnik
Today we say goodbye to Split and travel to Dubrovnik. Our tour takes us along the majestic Adriatic coast to our destination. Dubrovnik is a coastal town located in the famous region of Dalmatia. Dubrovnik has a rich history of war as well as Greek and Italian influence. Upon arrival we will be guided on foot around this beautiful city to explore famous sites such as the Franciscan Church and Monastery, Sponza Palace, St. Blaise's Church, and the Dominican Fortress. This evening we will enjoy a delicious farewell dinner and rest before our journey back to the US tomorrow. (B, D)
Day 13 | Dubrovnik – USA
In the morning, transfer to the local airport in Dubrovnik for your flight home. (B)