The possibilities are endless!
Check out our 35+ sample itineraries and mix days from different ones to create a truly customized trip.
Greece: In the Footsteps of St. Paul
Philippi | Kavala | Thessaloniki | Meteora | Kalabaka | Delphi | Athens
>> From Antioch to Asia Minor, Paul finally arrived in Greece, bringing Christianity to Europe. Retrace his steps and study the early history of Catholicism in Europe.
Inclusions
Round trip air transportation from major airport near your parish
Superior tourist class hotel accommodations double occupancy with bath or shower (single supplement extra)
Breakfast daily, most group dinners, with wine and beer, as indicated in Itinerary (B, D)
Special events, entertainment, and comprehensive sightseeing programs as indicated in itinerary
Transportation by private deluxe motor coach Tour escort and local guides
Hotel Service Charges and Taxes
US airport taxes, fuel surcharges included** **subject to change in the rare occasion that government/airline fees and fuel costs increase drastically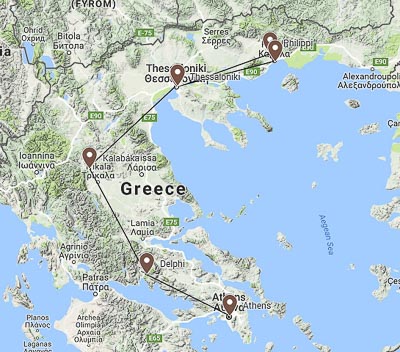 "Best pilgrimage that I have ever been on!"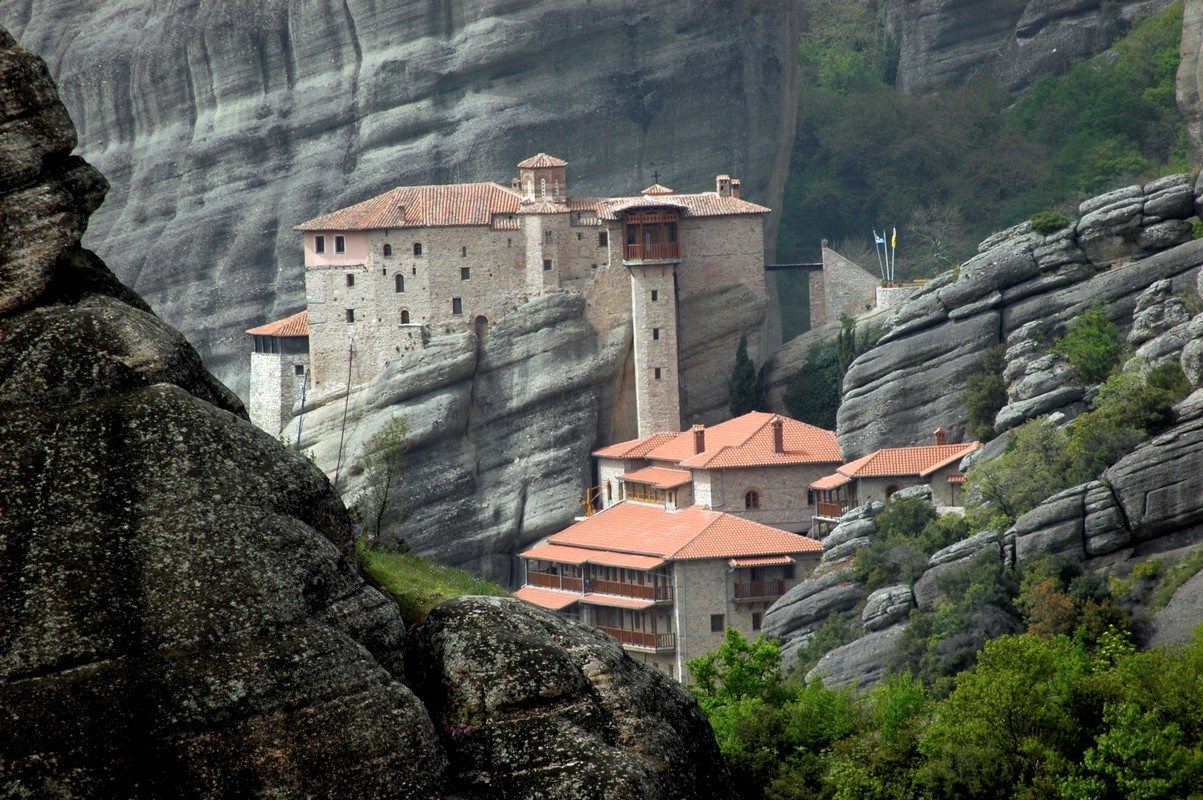 Day 1 | USA– Thessaloniki, Greece
Today we meet with our group and depart the USA for Thessaloniki, Greece. Meals will be served upon your transatlantic flight.
Day 2 | Arrival in Thessaloniki
Upon our arrival in Thessaloniki we meet our Escort outside the baggage claim area and load our coach. Depending on the time of arrival, we will have free time to get acquainted with the city. This evening enjoy a delicious dinner together and rest for our exciting journey. (B, D)
Day 3 | Philippi – Kavala – Thessaloniki
We start at the beginning in Philippi, where St. Paul baptized Europe's first convert, Lydia. We will visit the excavated Roman Forum where we can find the prison in which St. Paul and Silas were kept.
Acts 16: 23-30_ suddenly there came a great earthquake, so that the foundations of the prison house were shaken; and immediately all the doors were opened and everyone's chains were unfastened. 27 When the jailer awoke and saw the prison doors opened, he drew his sword and was about to kill himself, supposing that the prisoners had escaped. 28 But Paul cried out with a loud voice, saying, "Do not harm yourself, for we are all here!" 29 And he called for lights and rushed in, and trembling with fear he fell down before Paul and Silas, 30 and after he brought them out, he said, "Sirs, what must I do to be saved?
Drive on to the ancient coastal city of Neapolis (Kavala) where Saints Paul, Silas, Luke and Timothy first arrived in Europe. Our guide and spiritual director will reflect on the lives of these extraordinary saints throughout the day. Return for dinner and overnight in Thessaloniki. (B, D)
Day 4 | Thessaloniki – Kalabaka
After breakfast we enjoy a panoramic city tour of Thessaloniki. This is the place from which St. Paul wrote to the Thessalonians. These letters are the oldest of the New Testament and give witness to Paul's courageous work that was greatly opposed.
1 Thessalonians 2_ For you yourselves know, brethren, that our coming to you was not in vain, but after we had already suffered and been mistreated in Philippi, as you know, we had the boldness in our God to speak to you the gospel of God amid much opposition.
See the Arch of Galerius and hear the words of St. Paul where he spoke thousands of years ago. We leave Thessaloniki this afternoon and travel to Kalabaka. Here we dine together and rest for tomorrow's adventures. (B, D)
Day 5 | Kalabaka – Meteora – Delphi
Today we take the short drive to visit the stunning Meteora Monasteries built upon towering rocks. See the Varlaam Monastery which houses relics, icons, crosses, and other Byzantine treasures. After celebrating Mass in this incredible monastery we journey to Delphi, the ancient city. In Delphi we will check into our hotel and enjoy a leisurely evening. Tonight share another splendid local Greek dinner together. (B, D)
Day 6 | Delphi – Athens
We start out with a tour of Delphi. Visit the Sanctuary of Apollo Pythios which lies upon the edge of Mount Parnassus. What an incredible view! Learn about the ancient world and the important role of Delphi as a city state. We say farewell to Delphi and continue our pilgrimage to Athens, the largest city in Greece. In this truly beautiful and picturesque place we retire for the evening, enjoying dinner together before a restful night. (B, D)
Day 7 | Athens
Today we make our way to the famous Acropolis of Athens to see the ruins of the Parthenon, Erechtheum and Propylaea. Ascend Mars Hill and hear about St. Paul speaking about the one and only God. We will drive through the city and see the Presidential Palace, the University, Library, Panathenaic Stadium, the temple of Zeus and Hadrian's Arch. We continue to Ancient Corinth where St. Paul lived and preached for years. Our day also includes a visit to the Roman Forum, the Fountain of Peirene, Temple of Apollo and the Bema. (B, D)
Acts 17: 22-25_ "Men of Athens, I observe that you are very religious in all respects. For while I was passing through and examining the objects of your worship, I also found an altar with this inscription, 'TO AN UNKNOWN GOD.' Therefore what you worship in ignorance, this I proclaim to you. The God who made the world and all things in it, since He is Lord of heaven and earth, does not dwell in temples made with hands
Day 8 | Athens
Today is a free day in Athens for us to explore on our own. Tonight we will enjoy a final dinner together, sharing our wonderful memories, and of course the pictures we've taken and souvenirs we've purchased for friends! (B, D)
Day 9 | Athens – USA
After breakfast depart to Athens airport for our return flights home. (B)