The possibilities are endless!
Check out our 35+ sample itineraries and mix days from different ones to create a truly customized trip.
Holy Land: Walk with Christ
Jerusalem | Caesarea | Stella Maris | Nazareth | Mt. Tabor | Tiberias | Capernaum | Tabgha | Jericho | Dead Sea | Jordan River | Bethlehem
>> From Bethlehem and Nazareth, to Jerusalem and the Basilica of the Holy Sepulchre, the Holy Land is connected to our history, to our faith. What we learn of Jesus is not a theory, not a tale, it is a fact; and by coming to these places as pilgrims we can truly touch the history and truth of our faith.
Inclusions
Round trip air transportation from major airport near your parish
Superior tourist class hotel accommodations double occupancy with bath or shower (single supplement extra)
Breakfast daily, most group dinners, with wine and beer, as indicated in Itinerary (B, D)
Special events, entertainment, and comprehensive sightseeing programs as indicated in itinerary
Transportation by private deluxe motor coach Tour escort and local guides
Hotel Service Charges and Taxes
US airport taxes, fuel surcharges included** **subject to change in the rare occasion that government/airline fees and fuel costs increase drastically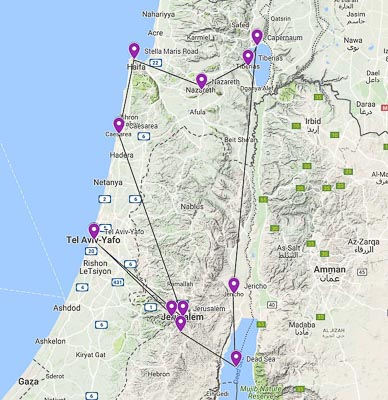 "I feel homesick for the Holy Land every day!"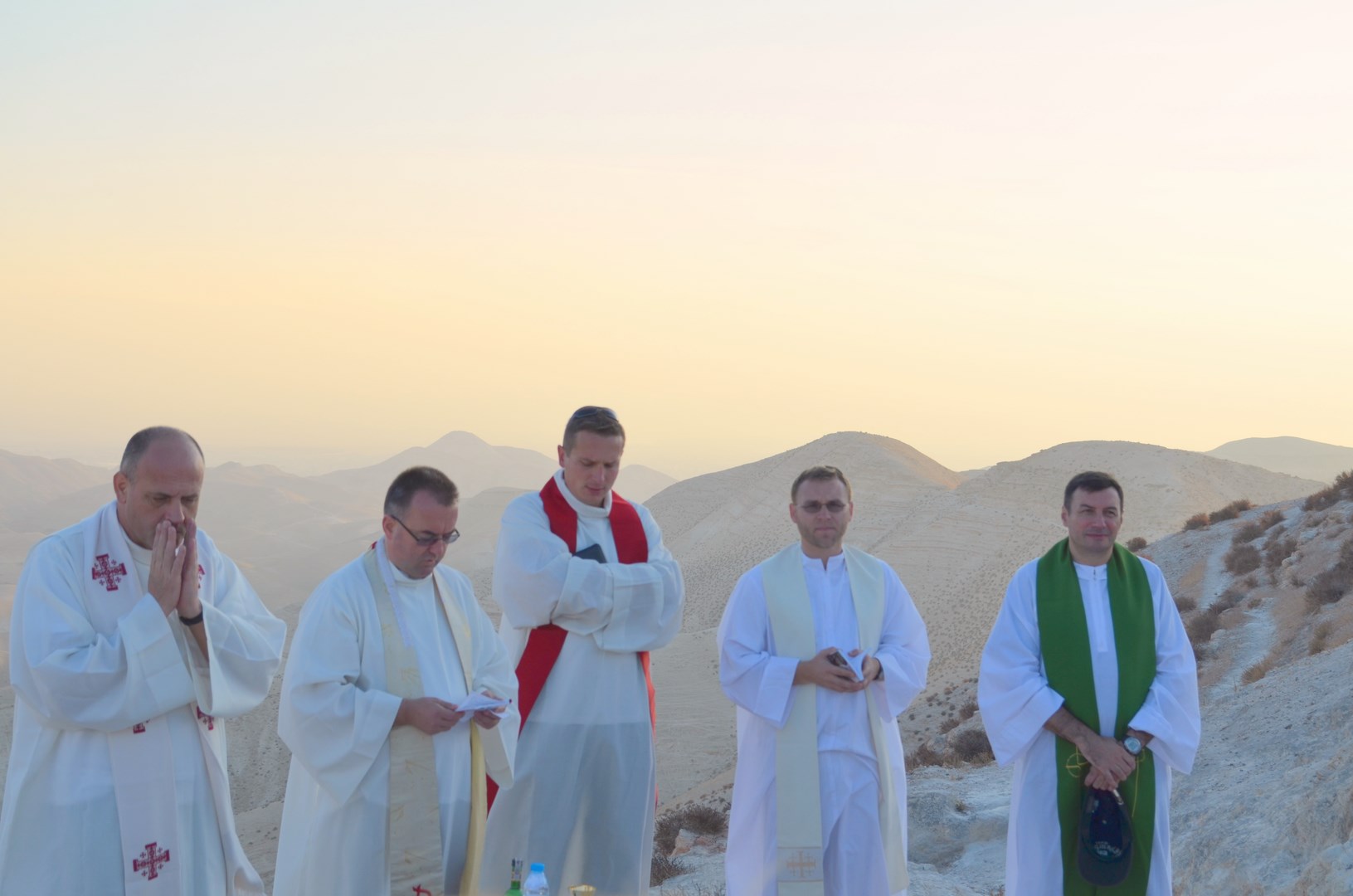 Day 1 | USA – Tel Aviv
Depart the USA for Tel Aviv. Dinner and breakfast will be served during your transatlantic flight.
Day 2 | Tel Aviv – Jerusalem
Upon arrival in Tel Aviv, you will be met by your guide and transferred to your hotel in Jerusalem. Remainder of the day is free to relax and rest after your long flights. Enjoy dinner and overnight in Jerusalem. (D)
Day 3 | Jerusalem
In the morning we take a walking tour in the Old City of Jerusalem. From the chapels of the Flagellation and Lithostrotos, follow the 14 Stations of the Cross along the Way of the Cross (Via Dolorosa) through the Old City to Calvary and Holy Sepulchre in the Basilica of the Resurrection. In the afternoon we visit the Wailing Wall, the holiest site of Judaism; the Mosques of Al Aksa and the Dome of the Rock– the Islamic presence in the Holy City; the Crusader Church of St. Anne and the Pool of Bethesda. Overnight in Jerusalem. (B, D)
Day 4 | Jerusalem
Start the day from the top of the Mount of Olives with a breathtaking panoramic view of the Old City. Visit the Chapels of Pater Noster, the Ascension, Dominus Flevit and the Church of All Nations in the Garden of Gethsemane. In the afternoon, visit Mount of Zion, St. Peter in Gallicantu (House of Caiphas), the Room of the Last Supper (Cenacle) and the Tomb of King David. Overnight in Jerusalem. (B, D)
Day 5 | Jerusalem – Caesarea – Nazareth
Today we leave Jerusalem traveling north to Galilee. We will drive the Mediterranean Coast stopping in Caesarea, where we will see ancient Roman ruins. Continue north to Mount Carmel, visiting the Stella Maris Monastery. We go to Nazareth, visit the Basilica of the Annunciation, Mary's Well and the Chapel of St. Joseph. This evening we have the special opportunity to renew our wedding vows at the 'Wedding Church' in Cana. Tonight we stay in Nazareth. (B, D)
Day 6 | Nazareth – Mt. Tabor – Tiberias – Capernaum – Tabgha – Jericho
After a filling breakfast, ascend to the top of Mt. Tabor, the Mount of Transfiguration for Holy Mass. The road up the mountain is so winding we must leave the coach at the base and take little mini–busses up! Our theologian guide and Spiritual Director will tell us about the Transfiguration of Jesus. Later we drive to Tiberius and sail across the Sea of Galilee to Capernaum. Visit Capernaum, the home town of Jesus, then the beautiful Mount of Beatitudes, and on to Tabgha – to view the mosaics in the Church of the Loaves and Fishes. Check in this evening at an oasis–like resort in Jericho to rest. (B, D)
Day 7 | Jordan River – Jericho – Dead Sea
Christ was baptized by John in the Jordan River. This morning we beat the crowds by getting to the Jordan River early. On the banks of the Jordan we will celebrate Holy Mass and our Priest will renew our baptisms here. In the late morning visit the excavations of the oldest city in history, Jericho; view the Mount of Temptation. Depending on the energy level of the group, we may ascend the Mount of Temptation by foot. Continue to the Dead Sea, the lowest spot on earth and spend the afternoon relaxing and floating in the Dead Sea. Overnight in Jericho. (B, D)
Day 8 | Bethlehem – Ein Karem – Jericho
Today we visit Bethlehem, the Basilica of the Nativity, the Grotto and the Manger. We also stop at the Shepherd's Field. In the afternoon we continue to Ein Karem, the Valley of the Visitation, the Magnificat and the birthplace of John the Baptist. Then we take a panoramic drive through the city of Jerusalem, viewing the Knesset building and the Menorah. Dinner and overnight in Jericho. (B, D)
Day 9 | Tel Aviv Departure for USA
After breakfast transfer to the airport in Tel Aviv for your flight home. (B)