The possibilities are endless!
Check out our 35+ sample itineraries and mix days from different ones to create a truly customized trip.
Rome | Assisi | Venice | Padua | Lugano | Locarno | Zurich
>> Jump into a pilgrimage of pure beauty and history with this journey through Italy and Switzerland. You will see some of the most metropolitan cities with a historic twist. Enjoy the hustle and bustle of Rome and then relax in the clear waters of Lake Lugano. From city centers to tranquil waters, this will be a pilgrimage of a lifetime.
Inclusions
Round trip air transportation from major airport near your parish
Superior tourist class hotel accommodations double occupancy with bath or shower (single supplement extra)
Breakfast daily, most group dinners, with wine and beer, as indicated in Itinerary (B, D)
Special events, entertainment, and comprehensive sightseeing programs as indicated in itinerary
Transportation by private deluxe motor coach Tour escort and local guides
Hotel Service Charges and Taxes
US airport taxes, fuel surcharges included** **subject to change in the rare occasion that government/airline fees and fuel costs increase drastically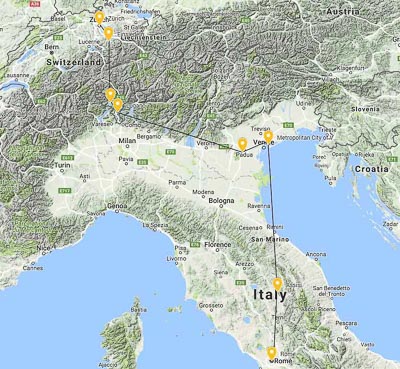 "For some reason I never thought of Switzerland as a pilgrimage destination. This is a hidden gem!"

Day 1 | USA – Rome, Italy
Board your flight to Rome. Dinner and breakfast served during your transatlantic flight.
Day 2 | Rome
Upon arrival in Rome, you will be met by your guide and transferred to your hotel. You are in the Eternal City – one of the greatest cities in the world. Remainder of the day is free to relax. Enjoy a group dinner tonight at your hotel. (D)
Day 3 | Rome
In the morning we attend the Papal Audience and receive a Blessing by His Holiness the Pope in St. Peter's Square. (Pending schedule of the Pope, subject to change at the last moment). In the afternoon, we tour the city including famous monuments of Rome such as the Trevi fountain, the Piazza Novona, Basilica of St. John Lateran and St. Mary Major. We will also visit the Vatican Museums and celebrate Holy Mass at the altar of Pope St. John Paul II. Enjoy dinner on your own this evening. (B)
Day 4 | Rome – Assisi
After a filling breakfast this morning we pack for our trip to Assisi. On our way out of the city, we visit the Basilica of St. Paul Outside the Walls by the oldest Roman road, the Appian Way. Later in the afternoon we arrive in Assisi. We will settle into our hotel and have a nice meal together. (B, D)
Day 5 | Assisi
Today we have a full day to enjoy the peaceful and tranquil village of Assisi, the birthplace of St. Francis. Visit St. Mary of the Angels Basilica, St. Francis' Porziuncola, and Capella Del Transito. Pray in the Shrine, inspired by Giotto's frescoes of the life of St. Francis. Visit the monastery of the Basilica of St. Clare to pray before the San Damiano crucifix from which Jesus told St. Francis to rebuild His church. Time to ourselves to explore Assisi. (B)
Day 6 | Assisi – Padua
After breakfast we travel the absolutely stunning landscapes of Italy as we head to the quaint city of Padua. Upon arrival we will have a guided tour of Padua. We will visit the Basilica and tomb of St. Anthony. We will celebrate Mass in the Basilica along with time for private prayer and reflection. In front of the Basilica you will see Donatello's famous statues. Enjoy a group dinner and overnight in Padua. (B, D)
Day 7 | Padua – Venice
In the morning we will head towards our destination of Venice. Upon arrival we will enjoy a half day guided sightseeing tour of this alluring city. We will take a boat to St. Mark's Square and see the Venetian-Byzantine Basilica of San Marco, Palace of the Doges, and The Bridge of Sights. In the afternoon take free time for shopping and coffee. We will have a group dinner tonight in an Italian restaurant with great good and fine wines. (B, D)
Day 8 | Venice – Lugano
This morning we say ciao to Italy and hello to the Italian community of Lugano in Switzerland. The scenic drive between these cities will offer breathtaking views of the countryside. While approaching Lugano, we will see both Lake Como and Lake Lugano, some of the most stunning lakes in the world. These two lakes are known for having the Alps as their backdrops which provides a truly remarkable sight. This afternoon you are free to explore this gorgeous city and return to the group for dinner. (B, D)
Day 9 | Lugano
We will spend the whole day touring all that Lugano has to offer. Walking through town we have the opportunity to visit the Cathedral of San Lorenzo, the Church of Santa Maria degli Angioli and the Church of San Rocco. After a leisurely lunch the group will take a boat tour around Lake Lugano, soaking in all of the God's beauty. This evening enjoy dinner on your own. (B)
Day 10 | Lugano – Locarno
We leave the mystifying city of Lugano for another treasure of the Swiss Alps, Locarno. Locarno is situated in the Southern Alps and provides a small town atmosphere. While here we will see the Astrovia Locarno which is a scale model of the Solar System. We are also visiting the Madonna del Sasso which is where the Virgin Mary appeared to the Franciscan Bartolomeo d'Ivrea in 1480. The rest of the afternoon can be spent in prayer and peaceful relaxation. The group will gather for a delicious meal featuring food from the local region this evening. (B, D)
Day 11 | Locarno – Zurich
Today we head to the last stop of our pilgrimage, Zurich. Zurich shows us a different side of Switzerland, the German side. Switzerland is home to very diverse cultures but the main thread between them all is their devotion to the Catholic Church. We have left the countryside for Zurich, a buzzing international hub. Before arrival in Zurich we stop in Einsiedeln to visit the Einsiedeln Abbey where we learn the history of Saint Meinrad. After prayer and reflection we continue on to Zurich where we share a dinner before having a free evening. (B, D)
Day 12 | Zurich
This morning we hit the city. Our guide will take us all around this metropolitan hub. We will visit many beautiful churches including the Liebfrauen. Our guide will also show us the Opera House, Botanical Gardens and other historical sites. We will take a walk along the river learning of the history of this city. This evening the group will share our last meal together before our travels the next day. (B, D)
Day 13 | Zurich – USA
After breakfast we will depart for the airport to take our flights back to the USA. (B)