The possibilities are endless!
Check out our 35+ sample itineraries and mix days from different ones to create a truly customized trip.
Marian Shrines of France and Spain
Paris | Lisieux | Mont St. Michel | Pontmain | Tours | Nevers | Paray-le-Monial | Ars-sur-Formans | Grenoble | La Salette | Avignon | Lourdes | Toulouse | Barcelona | Montserrat
>> One of our most popular itineraries, this program takes you from the heart of France, Paris, to Lisieux and Mont St. Michel, and south visiting several beautiful Shrines dedicated to Our Blessed Virgin, finally arriving in Lourdes for several days. Continue through the stunning Pyrenees Mountain range to Barcelona and Montserrat.
Inclusions
Round trip air transportation from major airport near your parish
Superior tourist class hotel accommodations double occupancy with bath or shower (single supplement extra)
Breakfast daily, most group dinners, with wine and beer, as indicated in Itinerary (B, D)
Special events, entertainment, and comprehensive sightseeing programs as indicated in itinerary
Transportation by private deluxe motor coach Tour escort and local guides
Hotel Service Charges and Taxes
US airport taxes, fuel surcharges included** **subject to change in the rare occasion that government/airline fees and fuel costs increase drastically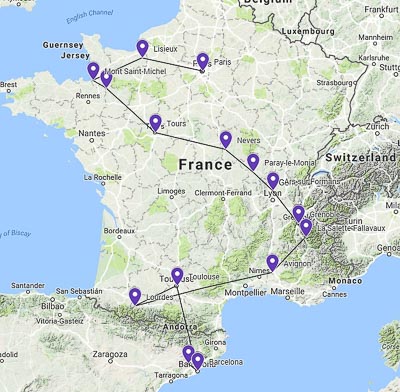 "Spending that extra time we had for Vespers at Mont St. Michel Abbey was the highlight for me."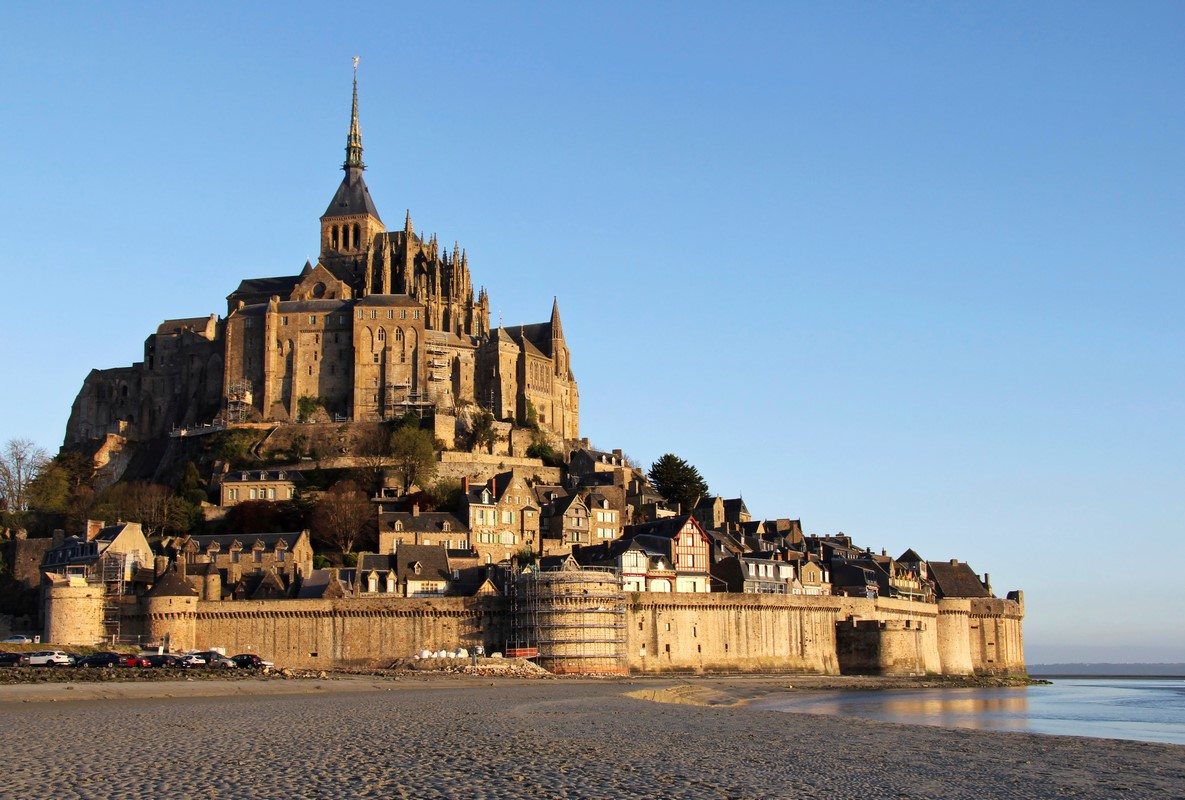 Day 1 | USA – Paris
Depart the USA on your transatlantic flight where dinner and breakfast will be served.
Day 2 | Paris
Upon arrival your escort will welcome you to Paris, and bring you to your hotel. You are in one of the greatest cities in the world. The remainder of the day is free for you to relax and explore this marvelous city on your own if you have the energy. (D)
Day 3 | Paris
After breakfast we will see many famous landmarks including the Arc de Triomphe, the Champs–Élysées, and Place de la Concorde – one of the most beautiful squares in the world, the Eiffel Tower, Notre Dame, and Palais du Louvre. Visit Rue du Bac for Holy Mass in the Chapel where Our Lady appeared to St. Catherine Laboure in 1830 giving her the Miraculous Medal. (B, D)
Day 4 | Paris – Lisieux
After breakfast we leave Paris and continue our tour toward Lisieux and the Basilica of St. Thérèse, one of the most influential saints of modern times. Explore this magnificent religious structure that was built in the 20th century. Before leaving, tour the ancient Cathedral of St. Peter and the Carmelite Convent. (B, D)
Day 5 | Mont St. Michel – Pontmain
Today visit Pontmain, where our Lady appeared to several young children during the Franco–Prussian War. Here Prussian troops stopped and turned around citing the 'invisible Madonna'. Twelve days after the apparition of Our Lady of Pontmain, Mother of Hope, the peace treaty of Versailles was signed. Continue west and spend the afternoon at the beautiful Mont St. Michel Abbey. (B, D)
Day 6 | Tours – Nevers
After breakfast, depart to Nevers. Stop in Tours on the way to visit the 15th century Cathedral. In Nevers, we visit the convent of St. Gildard where the incorrupt body of St. Bernadette is located. After the Virgin Mary appeared to St. Bernadette, she joined this convent in Nevers where she died on 16 April 1879, at the age of 35. Her body was discovered completely intact in 1909 and is now on display for veneration. Saint Bernadette was canonized on 8 December 1933 by Pope Pius XI. (B, D)
Day 7 | Paray–le–Monial – Ars-sur- Formans – Grenoble
Leave Nevers for Grenoble. On the way we will stop in Paray–le–Monial to visit the Chapel of the Visitation to learn of St. Margaret Mary Alacoque's visions of Christ and His Sacred Heart. Stop in Ars to pray before the body of Saint John Vianney, the Patron Saint of Priests. His body is incorrupt and entombed above the main altar in the Basilica. We then continue to Grenoble to overnight in the stunning French Alps. Dine and overnight in a splendid Chateau (B, D)
Day 8 | Day Trip to La Salette
Today we will spend time at the apparition site where Our Lady appeared to two shepherds in 1846 lamenting over the people's disrespect for Sunday and their blasphemy. The Virgin Mary spoke of famine and rotting crops if the people did not repent. A famine occured and a spring began to flow at the site of the apparition. Spend the day visiting and praying in this beautiful Shrine. Dine and overnight in a splendid chateau. (B, D)
Day 9 | Grenoble – Avignon – Lourdes
Upon our departure from Grenoble en route to Lourdes we stop in Avignon, at the Palace of the Popes, where six papal conclaves were held during the 14th century. We arrive in Lourdes for the evening. (B, D)
Day 10 | Lourdes
We visit the Shrine and take a walking tour of places associated with the life of St. Bernadette, including the Grotto of Massabielle. This is the site upon which a beautiful lady, our Blessed Mother, proclaimed to Bernadette that she was the Immaculate Conception. We will also see the Cachot (formerly a jail) where Bernadette lived. The Basilica of St. Pius X, considered the world's largest underground church, will also be part of the tour. There will be time in the afternoon for meditation and prayer, including an opportunity to bathe and receive the miraculous water of Lourdes. In the evening, we will participate in the Blessed Sacrament candlelight procession. (B, D)
Day 11 | Lourdes
After morning Holy Mass, free day to rest and experience Lourdes on our own. Time for private prayer. In the evening, we may participate in the Blessed Sacrament candlelight procession. (B, D)
Day 12 | Lourdes – Toulouse – Barcelona
Today we leave Lourdes for Barcelona passing by the foot of the beautiful Pyrenees Mountains, following along the Spanish Mediterranean Coast. We will stop in Toulouse and visit the Church of the Jacobins and its cloister, the burial place of St. Thomas Aquinas. We will also visit the Basilica of St. Saturninus in Toulouse. The first Bishop of Toulouse, was dragged to death in the streets in 250 AD for refusing to worship pagan gods. (B, D)
Day 13 | Montserrat – Barcelona
We begin our day with a morning trip to the Benedictine Monastery and Shrine of Our Lady of Montserrat following the pilgrimage taken by St. Ignatius Loyola to pray before the Virgin of Montserrat. After enjoying Escolanía, one of the oldest and most renowned boys' choirs in Europe, sing "Salve Regina" and the "Virolai" (hymn of Montserrat) in the basilica we depart for a city tour of Barcelona. During the tour, we will have the opportunity to see La Sagrada Familia, the Basilica which began construction under Antoni Gaudi in 1882 and is still under construction today. (B, D)
Day 14 | Barcelona Departure to USA
After breakfast we begin our journey home, leaving Barcelona for the US with our beautiful memories to share with friends and family. (B)