The possibilities are endless!
Check out our 35+ sample itineraries and mix days from different ones to create a truly customized trip.
Marian Shrines of Spain, Fatima and the Way of St. James
Barcelona | Montserrat | Zaragoza | Madrid | Toledo | Santiago de Compostela | Fatima | Santarém | Lisbon
>> This may be one of the absolute best programs of Spain and Fatima where you begin by following St. Ignatius Loyola at the Shrine of our Lady of Montserrat, to Zaragoza where the Blessed Virgin Mary co– located and appeared to St. James. Continue through Madrid to Santiago de Compostela and walk a few miles of the famed Camino to the Cathedral of St. James. Finally end this journey with a few days in Fatima, where Our Lady appeared in 1917 to the three shepherd children calling for the people to pray for world peace.
Inclusions
Round trip air transportation from major airport near your parish
Superior tourist class hotel accommodations double occupancy with bath or shower (single supplement extra)
Breakfast daily, most group dinners, with wine and beer, as indicated in Itinerary (B, D)
Special events, entertainment, and comprehensive sightseeing programs as indicated in itinerary
Transportation by private deluxe motor coach Tour escort and local guides
Hotel Service Charges and Taxes
US airport taxes, fuel surcharges included** **subject to change in the rare occasion that government/airline fees and fuel costs increase drastically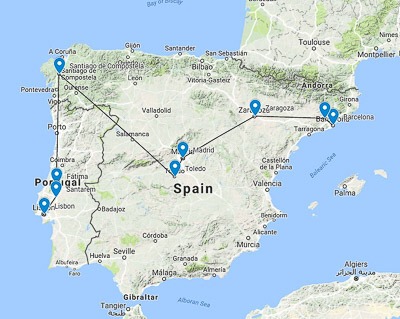 "All of those added stops and surprises you gave us along the way made the trip so special!"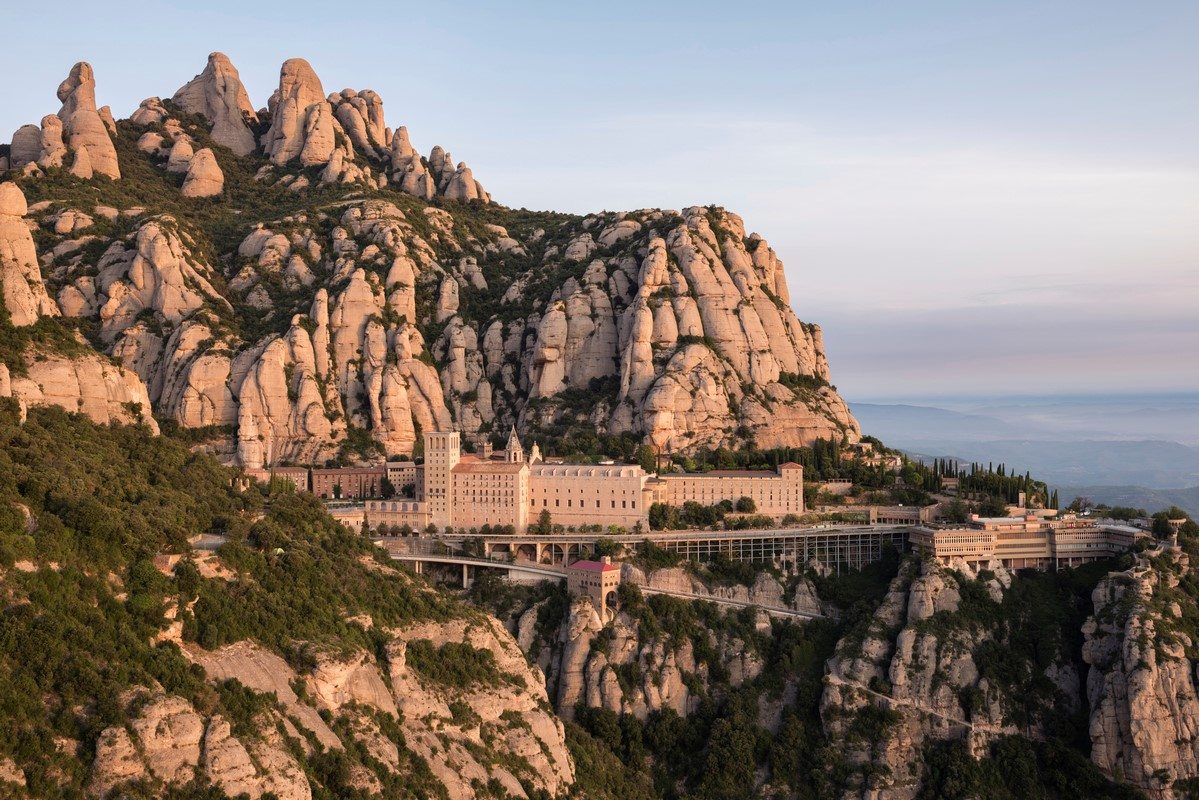 Day 1 | USA – Barcelona, Spain Depart the USA for Barcelona, Spain. Dinner and breakfast will be served during your transatlantic flight.
Day 2 | Arrival in Barcelona, Spain
Upon arrival in Barcelona we meet our Escort and check into the hotel. After dinner, we have the evening to rest after our long flight. (D)
Day 3 | Barcelona – Montserrat
We begin our day with a morning trip to the Shrine of Our Lady of Montserrat following the pilgrimage taken by St. Ignatius Loyola to pray before the Virgin of Montserrat. After enjoying Escolanía, one of the oldest and most renowned boys' choirs in Europe, sing "Salve Regina" and the "Virolai" (hymn of Montserrat) in the basilica before we depart for a city tour of Barcelona. During the tour, we will have the opportunity to see La Sagrada Familia, the Basilica which began construction under Antoni Gaudi in 1882 and is still under construction today. (B, D)
Day 4 | Barcelona – Zaragoza – Madrid
This morning we enjoy a filling breakfast and depart Barcelona for Madrid. On the way, we explore the Basilica de Pilar where the Blessed Virgin Mary appeared to St. James in Zaragoza. Around 44 AD while the Virgin Mary was still alive, she appeared to St. James upon a pillar carried by angels while he was spreading the Gospel in Spain. It is believed that this pillar is the same as the one in the Basilica. We continue to Madrid for dinner and overnight. (B, D)
Day 5 | Madrid – Toledo
Today we will make a panoramic city tour of Madrid. We will see many of the most famous sites of the capital of Spain, including Plaza de España, Puerta del Sol and the Royal Palace. Our journey continues to the ancient city of Toledo, city–museum, and the oldest capital of Spain. The historic city center is one of the largest in the country. You will see many beautiful sites including a 13th Century Cathedral, medieval castle, and more. In the afternoon, you have a chance to shop for local art. In the evening we return to Madrid for overnight. (B, D)
Day 6 | Madrid – Astorga – Santiago de Compostela
After breakfast we board our coach for the journey to Santiago de Compostela. En route, we will stop along the Way of St. James in Astorga- famed for its Cathedral and Episcopal Palace designed by Antoni Gaudi. After lunch we continue to Santiago de Compostela. Upon arrival, we join the evening Pilgrim's Mass at the Cathedral where we hope the famed Botafumeiro will swing (this is subject to the Cathedral's changing schedule). Fun Fact: The swinging Botafumeiro is a famous thurible, one of the largest in the world, which tradition says was put in place to reduce the stench coming from tired and unwashed pilgrims in addition to use during Mass. Afterwards, enjoy a group dinner and rest before tomorrow's day of exploration. (B, D)
Day 7 | Santiago de Compostela
This morning we will join other pilgrims and walk the last few miles of the Camino de Santiago to the Cathedral of St. James. Here we will celebrate Holy Mass and explore, ascending the stairs behind the altar to visit the crypt where the relics of St. James are preserved. Today we have the afternoon to ourselves to take in all that this beautiful place has to offer. (B)
Day 8 | Santiago de Compostela – Fatima
After breakfast we depart Santiago de Compostela and head to Fatima. Upon arrival we will join pilgrims from all over the world in the nightly procession and prayers. (B, D)
Day 9 | Fatima
Today we are in and around Fatima. We will visit the Chapel of the Apparitions, the Basilica with the tombs of Francisco, and Jacinta– Perpetual Adoration Chapel. In Aljustrel we will see the two homes of the little shepherds and then return to Fatima. In the evening, join pilgrims from all over the world in the nightly procession and prayers. (B, D)
Day 10 | Fatima – Santarém – Lisbon
After Holy Mass, we leave Fatima for our trip to Lisbon where we will visit the Basilica of St. Anthony, St. Jeronimos Monastery, and the famous Belem Tower. On our way south to Lisbon, we will stop in Santarém and the Church of St. Stephen, the place of the oldest known Eucharistic miracle on display since 1269 AD. Enjoy an exquisite farewell dinner together sharing our memories and experiences with one another. (B, D)
Day 11 | Lisbon – USA
After breakfast, transfer to the airport for return to the United States. (B)