The possibilities are endless!
Check out our 35+ sample itineraries and mix days from different ones to create a truly customized trip.
Our Lady of Fatima and Italy
Lisbon | Santarém | Fatima | Orvieto | Assisi | Loreto | Lanciano | San Giovanni Rotondo | Monte Sant' Angelo | Pompeii | Sorrento | Capri | Monte Cassino | Rome
>> Starting in Fatima and the Little Chapel of Apparitions, continuing to Rome, Assisi, and east to the Amalfi Coast, this is one of our most popular itineraries.
Inclusions
Round trip air transportation from major airport near your parish
Superior tourist class hotel accommodations double occupancy with bath or shower (single supplement extra)
Breakfast daily, most group dinners, with wine and beer, as indicated in Itinerary (B, D)
Special events, entertainment, and comprehensive sightseeing programs as indicated in itinerary
Transportation by private deluxe motor coach Tour escort and local guides
Hotel Service Charges and Taxes
US airport taxes, fuel surcharges included** **subject to change in the rare occasion that government/airline fees and fuel costs increase drastically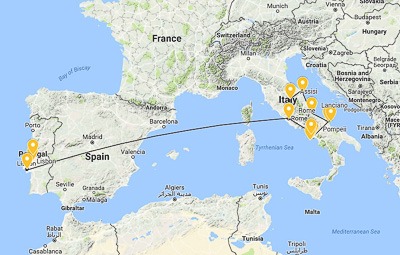 "I can't wait for next year's trip!"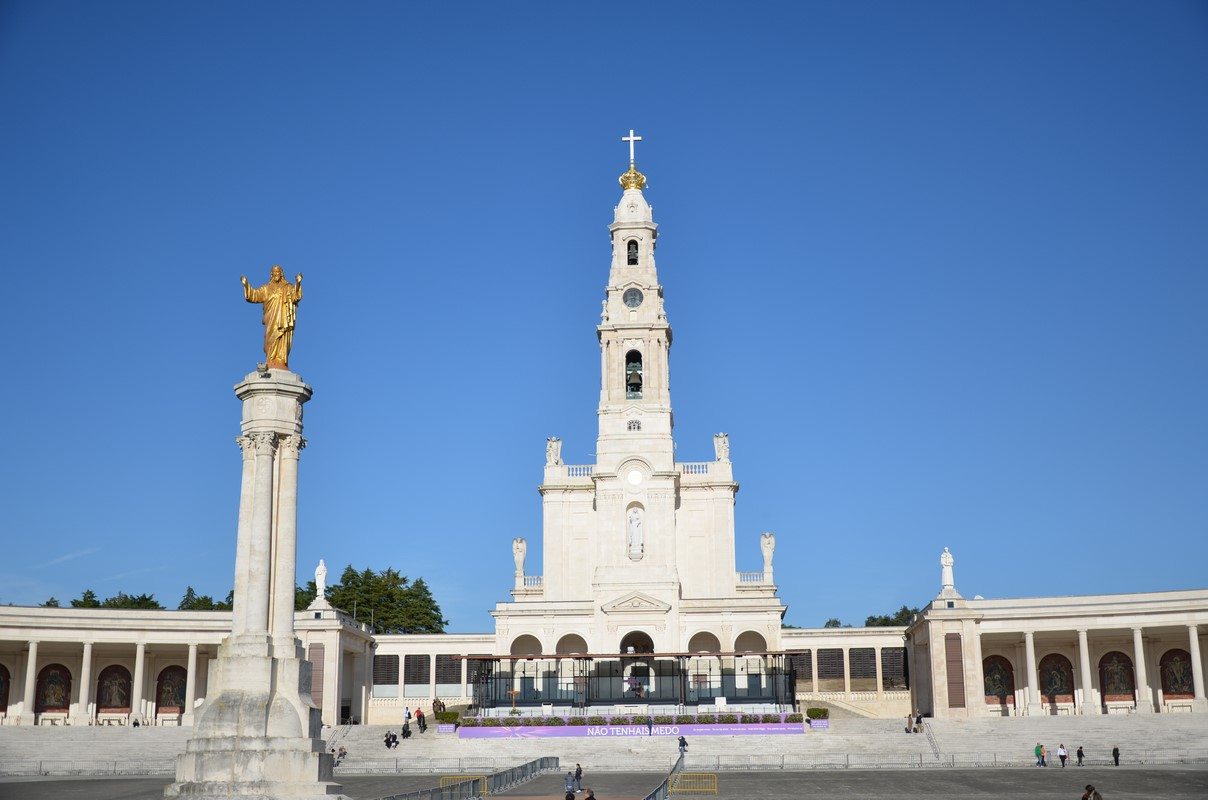 Day 1 | USA – Lisbon
Depart the USA for your overnight flight to Lisbon, Portugal. Dinner and breakfast will be served on board.
Day 2 | Arrive Lisbon
Dependent upon the time of our arrival in Lisbon, we may begin with a driving city tour, including the Basilica of the Star, Rossio Square and Commerce Square. We may also visit the Cathedral, St. Jerome's Monastery and St. Anthony's Church. We will check into the hotel and have the balance of the day to rest after our long journey. This evening we enjoy a filling dinner together. (D)
Day 3 | Lisbon – Santarém – Fatima
Today we travel to Santarém and the Church of St. Stephen, the place of the oldest known Eucharistic miracle. We celebrate Holy Mass and continue to Fatima where Our Blessed Virgin appeared to three children, crying for peace. (B, D)
Day 4 | Fatima
Spend all day today in Fatima, the Little Chapel of the Apparitions, the Basilica, the site of Francesco and Jacinta's graves, the Hamlet of Aljustrel and Valinhos, where Our Lady appeared when the children returned from being falsely imprisoned. We will walk the Stations of the Cross along Via Sacra ending at the Chapel of Calvary, with a beautiful view of Fatima. Participate in the nightly candlelight procession. (B, D)
Day 5 | Fatima
We have the entire day free in Fatima for personal prayer, reflection, and Holy Mass. Again, join in the nightly rosary precession and prayers with thousands of other pilgrims. (B, D)
Day 6 | Fatima – Lisbon – Rome – Orvieto – Assisi
After breakfast we head to the airport for our flight to Rome. Upon arrival, you will be met by your guide and transferred to your hotel in Assisi. On the way to Assisi, stop in Orvieto to celebrate Holy Mass and explore the Orvieto Cathedral, a large 14th-century church dedicated to the Assumption of the Blessed Virgin Mary in the Region of Umbria. Upon arrival in Assisi, enjoy dinner together and rest. (D) Day 7 | Assisi Today enjoy a full day in the peaceful and tranquil village of Assisi, the birthplace of St. Francis. Visit St. Mary of the Angels Basilica, St. Francis' Porziuncola, and Capella Del Transito. Pray in the Shrine, inspired by Giotto's frescoes of the life of St. Francis. Visit the monastery and the Basilica of St. Clare to pray before the San Damiano crucifix from which Jesus told St. Francis to rebuild His church. Time to explore Assisi. This evening enjoy dinner in Assisi on your own. (B)
Day 8 | Assisi – Loreto – Lanciano – San Giovanni Rotondo
After breakfast we travel the absolutely stunning landscape of Italy to its eastern coast along the Adriatic Sea, stopping at the Holy House of Loreto, and in Lanciano on our way to San Giovanni Rotondo. We will pray at the Sanctuary of the Eucharistic Miracle in Lanciano where in the 8th century the host visibly changed to flesh and the wine visibly changed to blood when a monk doubted the presence of Our Lord in the Eucharist. Dinner and overnight in San Giovanni Rotondo. (B,D)
Day 9 | San Giovanni Rotondo – Monte Sant' Angelo – San Giovanni Rotondo
Saint Padre Pio lived in San Giovanni Rotondo for 50 years. We will pray at his tomb, and see his uncorrupt body in the Shrine of Our Lady of Grace. Saint Pio is truly a miraculous being, known for his stigmata, mysticism and sufferings. In the afternoon we will travel to Monte Sant' Angelo to visit the Grotto of Michael the Archangel, the very famous place where thousands, including many Popes, come seeking the protection of St. Michael the Archangel. (B,D)
Day 10 | San Giovanni Rotondo – Pompeii – Sorrento
After breakfast we depart for Naples. En route, we stop in Pompeii to see the ruins of a city buried by a catastrophic eruption of Vesuvius in the year 79AD. Later we visit the Shrine of Our Lady of the Rosary. In the late afternoon we enjoy the scenery of the Bay of Naples from Sorrento. (B,D)
Day 11 | Capri – Rest Day
Today we take a boat ride to the famous island of Capri where we have a splendid day to take in the Mediterranean scenery and relax. (B,D)
Day 12 | Sorrento – Monte Cassino – Rome, Basilica of St. Paul Outside the Walls, Catacombs of St. Callixtus
Today we make an early departure from Sorrento to Rome. Along the way we make a stop in Monte Cassino, the principle monastery of the Benedictine Order, founded by Saint Benedict around 530 A.D. Continue to Rome and visit the Basilica of St. Paul Outside the Walls by the oldest Roman road, the Appian Way. Time permitting explore the nearby Domino Quo Vadis Chapel, the Baths of Caracalla, the Arch of Drusus, the Tomb of Cecilia Metella, and the catacombs of St. Callixtus. Late tonight we enjoy a delicious meal in our hotel together. (B, D)
Day 13 | Rome
We will tour St. Peter's Basilica, including St. John Paul II's tomb in Vatican City. Millions come every year to these breathtaking pilgrimage sites. This is the world's largest Basilica, designed by architects such as Michelangelo and Gian Lorenzo Bernini. After lunch, we will tour the Vatican Museums, the Sistine Chapel, Raphael's Room, and more. (B)
Day 14 | Ancient and Christian Rome – Colosseum, Roman Forum, Piazza Navona, Pantheon, Trevi Fountain, Holy Staircase, Basilicas of St. John Lateran and St. Mary Major.
Today will be an intense day of Ancient and Christian Rome, one of the busier walking days as our tour bus cannot drive to every site we will be visiting. Begin with a visit to the famous monument of Ancient Rome – the Colosseum. We take you around and explain the history of the arena and the events that took place here, while you stand on the same spot as emperors, gladiators and the Roman mob. From here, go through the Roman Forum, the Pantheon and Piazza Navona. Continue to the Trevi Fountain, the Holy Staircase and Basilicas of St. John Lateran and St. Mary Major. This city tour is largely by foot and makes for a long day. Enjoy dinner on your own tonight in Rome. (B)
Day 15 | Rome – Papal Audience In the morning we will attend the Papal Audience and receive a Blessing by His Holiness the Pope in St. Peter's Square. (Pending schedule of the Holy Father, subject to change at last moment). In the afternoon enjoy your last day free for shopping and leisure. You are in the Eternal City –one of the greatest cities in the world. Enjoy a final group dinner together tonight at a local restaurant. (B, D)
Day 16 | Rome – USA
After breakfast transfer to the airport in Rome for our flight home. Ciao Italia! (B)