The possibilities are endless!
Check out our 35+ sample itineraries and mix days from different ones to create a truly customized trip.
Ultimate Italy Experience
Rome | Monte Cassino | San Giovanni Rotondo | Monte Sant'Angelo | Lanciano | Loreto | Assisi | Siena | Pisa | Florence | Padua | Venice
>> The complete Italian experience, this itinerary will awe pilgrims every single day. With several perfectly planned afternoons for rest, this pilgrimage will make parishioners want to return every year.
Inclusions
Round trip air transportation from major airport near your parish
Superior tourist class hotel accommodations double occupancy with bath or shower (single supplement extra)
Breakfast daily, most group dinners, with wine and beer, as indicated in Itinerary (B, D)
Special events, entertainment, and comprehensive sightseeing programs as indicated in itinerary
Transportation by private deluxe motor coach Tour escort and local guides
Hotel Service Charges and Taxes
US airport taxes, fuel surcharges included** **subject to change in the rare occasion that government/airline fees and fuel costs increase drastically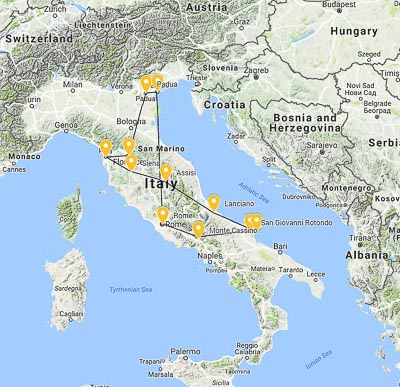 "This was simply an extraordinary trip–we never imagined we would be so blessed to see so many beautiful and holy places. Thank you for making this spiritual journey available"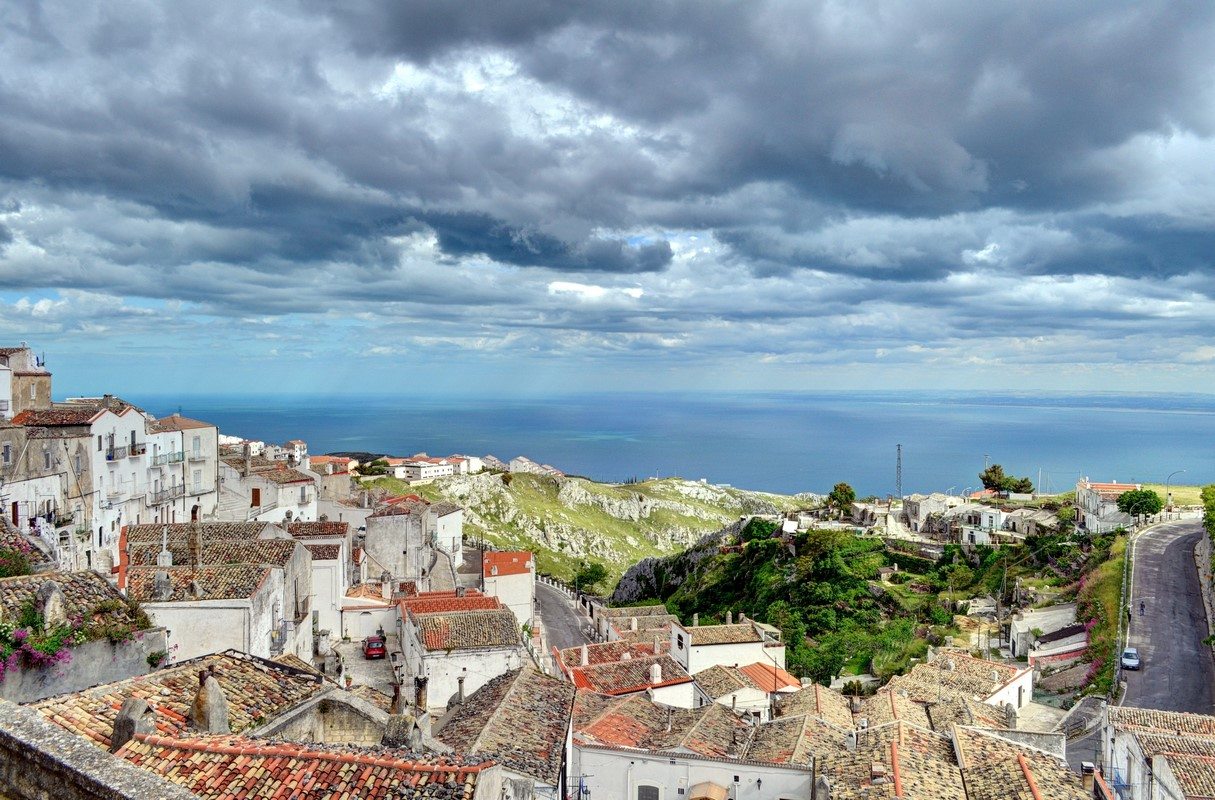 Day 1 | USA – Rome, Italy
Board your flight to Rome. Dinner and breakfast served during your transatlantic flight.
Day 2 | Rome
Upon arrival in Rome, you will be met by your guide and transferred to your hotel. You are in the Eternal City –one of the greatest cities in the world. Remainder of the day is free to relax. Enjoy a group dinner tonight at your hotel. (D)
Day 3 | Rome
In the morning we will attend the Papal Audience and receive a Blessing by His Holiness the Pope in St. Peter's Square. (Pending schedule of the Holy Father, subject to change at last moment). In the afternoon, we tour the city including famous monuments of Rome: The Trevi Fountain, Piazza Novona, Basilica of St. John Lateran and St. Mary Major. (B, D)
Day 4 | Rome
This morning we will visit St. Peter's Basilica, including Pope St. John Paul II's tomb in Vatican City. Millions come every year to these breathtaking pilgrimage sites. This is the world's largest Basilica, designed by architects such as Michelangelo and Gian Lorenzo Bernini. After lunch, we will tour the Vatican Museums, the Sistine Chapel, Raphael's Room, and more. Enjoy dinner this evening on your own in the Eternal City. (B)
Day 5 | Rome – Monte Cassino – San Giovanni Rotondo
After breakfast we visit the Basilica of St. Paul Outside the Walls by the oldest Roman road, the Appian Way. We then leave Rome through the Italian countryside to Monte Cassino. We visit the Abbey and learn the history of the 1944 Battle of Monte Cassino. In the afternoon we travel the absolutely stunning landscape of Italy to its eastern coast along the Adriatic Sea, to San Giovanni Rotondo. Dinner and overnight in San Giovanni Rotondo. (B, D)
Day 6 | San Giovanni Rotondo – Monte Sant'Angelo
Saint Padre Pio lived in San Giovanni Rotondo for 50 years. We will pray at his tomb, and see his uncorrupt body in the Shrine of Our Lady of Grace. Saint Pio is truly a miraculous being, known for his stigmata, mysticism and sufferings. In the afternoon we will travel to Monte Sant'Angelo to visit the Grotto of Michael the Archangel, the very famous place where thousands, including many Popes, come seeking the protection of St. Michael the Archangel. (B, D)
Day 7 | San Giovanni Rotondo – Lanciano – Loreto – Assisi
Today we part with San Giovanni Rotondo to head north. We will pray at the Sanctuary of the Eucharistic Miracle in Lanciano where in the 8th century the host visibly changed to flesh and the wine visibly changed to blood when a monk doubted the presence of Our Lord in the Eucharist. After Holy Mass and lunch we continue to the Marian Shrine of Loreto. In the evening arrive in Assisi for another delicious Italian dinner and overnight. (B, D)
Day 8 | Assisi
Today we have a full day to enjoy the peaceful and tranquil village of Assisi, the birthplace of St. Francis. Visit St. Mary of the Angels Basilica, St. Francis' Porziuncola, and Capella Del Transito. Pray in the Shrine, inspired by Giotto's frescoes of the life of St. Francis. Visit the monastery and the Basilica of St. Clare to pray before the San Damiano crucifix from which Jesus told St. Francis to rebuild His church. Time to ourselves to explore Assisi. (B)
Day 9 | Assisi – Siena – Pisa – Florence
After breakfast we will head north to Siena, the home of Saints Catherine and Bernardine. We will visit the Basilica of St. Francis, home to the famous Eucharistic Miracle of 1730 where thieves stole the consecrated Sacred Host. They were soon found in a collection basket with dirt. The Sacred Hosts did not change or degrade in the passing of time. In the Basilica of San Domenico we will see the incorrupt head of St. Catherine. After Holy Mass we continue to Pisa where you will see the famous Leaning Tower. Also you will visit the Cathedral and the Baptistery – where the special echo inside has enthralled tourists for so many years. After free time for lunch and shopping we will continue to Florence. (B, D)
Day 10 | Florence
Today we will visit Florence, home of Michelangelo, Dante, Boccaccio, Leonardo da Vinci, and others. Our tour will include the impressive Cathedral of Santa Maria del Fiore, Piazza del Duomo, Baptistery, Piazza della Signoria, and Ponte Vecchio. This afternoon, time to explore and enjoy dinner on your own. (B)
Day 11 | Florence – Padua
After a filling breakfast, we depart for Padua. Visit the Basilica and the tomb of Saint Anthony. We will celebrate Holy Mass in the Basilica along with time for private prayer. In front of the Basilica you will see Donatello's famous statues. Enjoy a group dinner and overnight in Padua. (B, D)
Day 12 | Padua – Venice
In the morning, enjoy a half day guided sightseeing tour of beautiful Venice. We will take a boat to St. Mark's Square, and see the Venetian–Byzantine Basilica of San Marco, Palace of the Doges, and The Bridge of Sighs. In the afternoon take free time for shopping and coffee. We will have a group dinner tonight in an Italian restaurant with great food and fine wines. (B, D)
Day 13 | Departure – USA
After breakfast where we share our delightful memories together transfer to the airport for our flight home. Ciao Italia! (B)